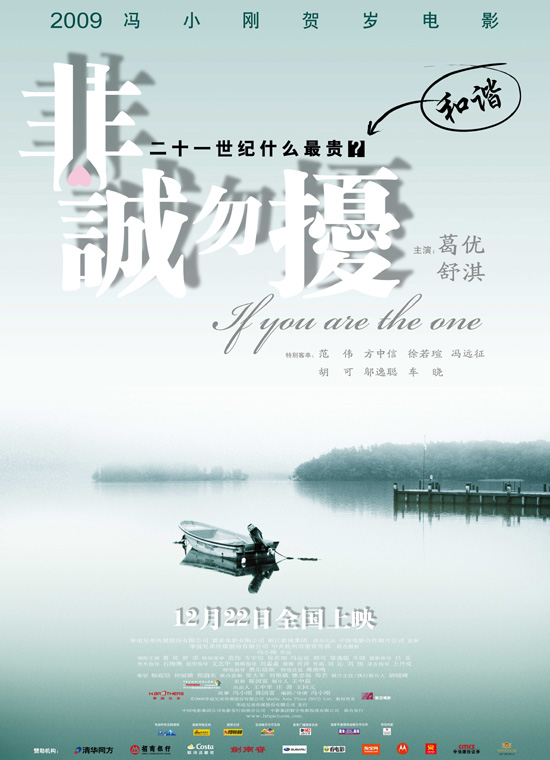 '

If You Are the One

', a top performer at the Chinese box office (RMB 340 million)


China's film industry is one of the few industries that are immune to the current financial crisis. I watched a TV program entitled
Economy Cools While Films Get Hotter
(
《冷了经济 火了电影》
) on CCTV a few days ago. A number of actors, producers and some other professionals involved in the film industry are interviewed in the program. The
lipstick effect
is believed to have played a role in China's fast growing film industry under the current financial climate. There is no doubt that China's film industry has been growing by leaps and bounds in the recent 5-7 years. According to the program, the number of homegrown films grew from 88 in 2001 to 406 in 2008. Box office sales grew to RMB 4.341 billion ($638 million) in 2008 from RMB 950 million ($140 million) in 2003. Despite the impressive growth of the film industry, the program points out a number of issues that need to be addressed:
A small number of homegrown films are making money. Most homegrown films are either losing money or merely at breakeven.
It's difficult to raise capital. Many film production companies spend more time raising capital rather than actually creating and producing films.
Lack of original/excellent creation in film production.
Box office is the only main revenue stream. More revenue streams need to be utilized.

This is an interesting TV program that gives some basic knowledge of China's film industry. China's homegrown films accounted for more than 60% of the total box office in 2008, and China is one of the fastest-growing film markets in the world. No wonder
U. S. is battling to get more Hollywood films exported to China
. Some Chinese film production companies (e.g. China Film Group, Huayi Brothers) are doing very well. However, for all Chinese filmmakers, there is still a lot to learn from their American counterparts.
In short, China's film industry is prosperous and full of potential. However, there are still a lot of losers out there. It can be very risky to invest in this fast growing industry.
BTW,
Transformers 2
has been on screen for a while and I will contribute 80 yuan to China's box office sometime next week.
Related reading:
China's film industry on fast track